The intelligent UV disinfection robot can be pre-set to automatically kill bacterial propagules, spore fungi, pathogens and other pathogenic microorganisms in the air and on the surface of objects, and completely disinfect the indoor air and objects. It's suitable for unattended and uninterrupted anti-virus sterilization in public places and large spaces.
Efficient disinfection
Efficient wide-angle disinfection and sterilization
Automatic navigation
Automatically navigating to the target place for disinfection
Obstacle avoidance
Real-time dynamic path planning in unknown environments to avoid obstacles
Periodic disinfection
Automatically start and execute the disinfection task at a pre-set time
Lidar
Lidar positioning, navigation and obstacle avoidance
Voice reminder
Voice reminder during task execution to improve safety
Personnel protection
70° safe area at the rear side to effectively protect the safety of staff
Infrared sensor
Infrared human body induction system to effectively avoid unintentional harm
UV Disinfection Robot
The intelligent UV disinfection robot system is composed of a smart robot and three 30W quartz UV lamps.
The smart robot includes an intelligent human body identification system, which ensures that disinfection is carried out in an unmanned environment and in a safe and secure manner. It's fully automatic, independent and flexible, suitable for disinfection in a variety of circumstances.


The UV disinfection lamps meet the requirements of A3.1.2 in WS/T 367 of the Sterilization Standards for Medical Institutions and GB19258 standard, as well as the high-intensity anti-virus sterilization requirements within the 270° range.

Major features
Navigation algorithm, lidar and multiple ultrasonic radars are used for optimized disinfection effect and coverage.


Built-in infrared sensor and reminder audio ensure that it brings no harm to people or animals It supports remote control and presetting of disinfection route and speed.


Optical simulation is used for lamp layout to ensure the most effective disinfection intensity and effect.


The protective door can be opened when the lamps are working, and can be closed when disinfection is completed.


The robot system can be conveniently controlled through a mobile app or WeChat applet.


The robot system can be lifted up by 500mm and retracted to a normal height of 1600mm, to reach up to a maximum height of 2100mm.

Learn More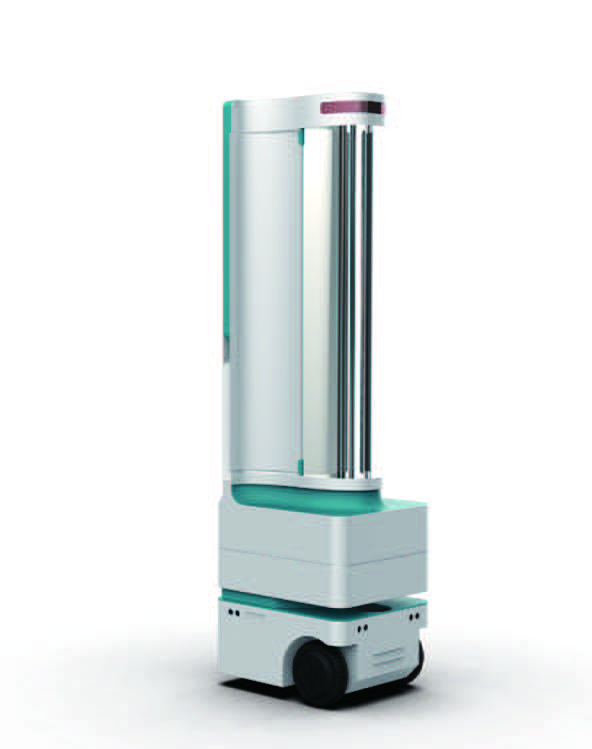 Professional optical design
The disinfection effect of the robot system has been verified by simulation of TracePro, a world-renowned optical design software, to accurately obtain the radiation illuminance distribution data in three-dimensional space, guide the setting of the disinfection path and time, and ensure optimized disinfection effect and coverage.
Learn More
Efficient disinfection and sterilization
Total UV lamp power of 90W.


No blind angle in the direction of 270°.


Ultra-high efficiency - during a normal disinfection, it can completely disinfect 57 square meters every ten minutes.


Flexible and variable obstacle-defying ability and walking route.


Sterilization rate of up to 99.9%.

Learn More
Safety, intelligence, and environmental protection
The robot is a great replacement of disinfection staff, as it can disinfect in public areas and narrow passages to avoid cross-infections. Also, it greatly helps to prevent epidemics, and reduce the threat of viruses and bacteria, reduce workload and risk for the front-line personnel.
Learn More
Application scenario
Suitable for occasions with dense crowds and large areas: factory workshops, office buildings, schools, warehouses, canteens, conference venues, cinemas, shopping malls, stations, airports, hospitals, hotels, and casinos.
Specification Table
Basic skills
Sterilization method
UV irradiation
Running track
The client terminal sets the target point, and the robot automatically patrols to run
Navigation type
Lidar + ultrasonic radar +self-built map control
Performance parameter
UV lamp power
90w
UV lamp life
8000 hours
Overall size
L460*W380 *H1600~H2100mm
Sterilization speed
57 square meters and 74 cubic meters of killing area every 10 minutes
One killing area is about 1700 square meters, about 2210 cubic meters; killing time is about 5 hours, the maximum killing height can reach 2.4 meters
Sterilization rate
>99.9%
Security system
Automatic obstacle avoidance
Automatic obstacle avoidance function
Human induction
When the robot senses that a person is approaching an unsafe area, it automatically turns off the UV lamp
Emergency braking
Emergency stop switch
Light reminder
Warning light to remind when working
Voice reminder
to remind people of staying away from the robot when it's disinfecting
Power system
Charging method
Both automatic charging and manual power connection, 3.5 hours
Disinfection working time
5 hours
Way to control
Mobile terminal
app
Surface disinfection
Kill common bacterial colonies: it should reach 10000UW.S/cm2

Kill bacterial spores: should reach 100000UW.S/cm2

Kill virus: between 10000UW.S/cm2 and 100000UW.S/cm2

Kill unknown target microorganisms: no less than 100000UW.S/cm2
Source: technical specifications for disinfection
When the robot is working, people and animals must leave. Protect high-grade leather products, calligraphy and paintings from exposure to UV radiation. Do not look directly at the light source.