Key Criteria for Selecting a Cloud Hosting Provider
Look for the following in selecting a Cloud Hosting company:
Security services that support cloud environments
Certifications; SSAE 16, HIPPA, FISMA, PCI
Support for management and monitoring capabilities
Networking support
Cloud services and storage in many types of environments
Experience with Hybrid, Public, Private hosting
Ability to perform detailed computing assessments and workload analysis
Partners including Azure, AWS, Equinix, SuperNAP and more
Cloud load balancers
Autoscaling
API support
Skills of Cloud support team
24 x 7 Support
Access multiple Clouds to connect to your storage via your private or public network with Equinix Performance Hub
Leverage NetApp Private Storage (NPS) to control your cloud workloads and maintain compliance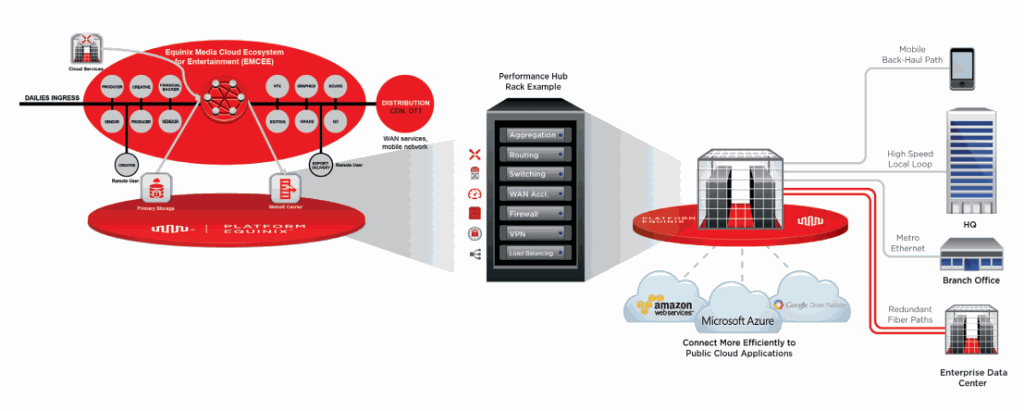 NPS as a Service powered by Creativestar provides the storage, network, and availability without the need of a crystal ball for future needs. We've created a turnkey solution built in and on Equinix's world-class data centers with NetApp's world-class storage. We sit at the intersection of where Internet, WAN, Cloud, and hardware meet and enable you to create your Hybrid Cloud solution so that you can connect to who you want, where you want; whenever and wherever.
Let us empower your world and give you the choices to be successful without the risk.
Cloud Hosting with Security Monitoring Included
Most Public Clouds break down the shared IT security responsibility model into two primary categories: security in the cloud, and security of the cloud. Many organizations maintain a false belief that the cloud provider is responsible for securing their data, and they are unaware of what responsibility they own. This belief can lead to increased security risks, potential data loss, and failure to meet compliance and regulatory requirements.
For example, Amazon makes it clear it that they are responsible for the physical security of the data centers and underlying pieces of infrastructure, which includes: computing, storage, database, and networking.
The cloud hosting customer is responsible for security in the cloud, including data protection, identity and access management, operating system configuration, network security — access controls — and encryption.
Creativestar includes a monthly Security Analysis Report (like the one shown here) for all of its clients using any hosting provider.
Cloud Hosting Assessment, it all starts here …
Creativestar's Cloud Assessment is a cloud infrastructure analytics service providing data analytics, cost analysis, and recommendations to speed and simplify ROI analysis, cloud migration, and management. This service helps you determine "right-sized" cloud configurations and the "best-fit" cloud provider (private, hybrid, AWS, Azure) for your environment.
This service automates application discovery, creates dependency mapping, analyzes performance metrics, resource utilization, and your usage patterns. Use this analysis to:
Provide precise cloud migration information
Compare the costs of AWS, Microsoft Azure and other public cloud services based on your specific configurations
Ensure your cloud computing needs are met, and right-sized
Create an optimal (costs vs. performance) cloud environment
Improve your ROI and maximize your cloud investments while proposing significant cost efficiencies
A detailed understanding of your site performance expectations to provide you the optimal architecture
A complete picture of your data storage requirements to optimize your hosting solution
A calculation reflecting the demands your applications and users will put on your hosting and network infrastructure
Requirements for performance, agility, and growth
Analysis of cloud configuration and migration parameters
An understanding of your backup, redundancy and disaster recovery requirements
Security, storage, and compliance criteria
Creativestar Cloud Assessment includes a comparison analyzing workloads and current pricing for AWS and Azure so you can make a better decision.
Managed Cloud Hosting Delivers Additional Value
Creativestar's Managed Cloud Hosting provides the agility and efficiency you need from an enterprise cloud hosting provider. Our cloud assessment will ensure you have the best cloud hosting configurations whether you are using AWS, Azure or working in complex hybrid environments. Creativestar is a full cloud partner, with certified technical staff for both Microsoft Azure and AWS along with supporting our data centers and our global network of hosting providers.
Cloud hosting is much more than just rack space and power with Synoptek. We do not offer "one size fits all" solutions like the large commodity providers. Instead we "rightsize" your hosting infrastructure to meet your business needs. Our focus is on performance, security, and reliability of our cloud hosting services rather than and building server density to generate higher margins for us.
Cloud Hosting Solutions
Creativestar offers value (not a commodity cloud solution) by providing a comprehensive management system for cloud hosting, security, infrastructure, monitoring, management, incident management, problem management, multi-tiered support, Live 24×7 Help Desk, anti-virus protection and more.
Services that you need, but don't come with typical cloud hosting.
The bottom-line is that you need additional security for any cloud environment and Creativestar provides cloud-focused security services which includes a Monthly Cloud Security Analysis as part of its standard Cloud Hosting Services.
Live 24×7 Monitoring of Cloud Hosting in Cresativestar's Enterprise Operations Centers
We rely on tier level 1-4 data centers to manage your environment and provide live monitoring services at the right cost. We stand behind a 99.9% uptime guarantee from our enterprise operations centers to monitor your IT environment from three redundant geographically diverse locations. Our Cloud Hosting facilities are our own or with one of our partners and are located around the world.
Expert IT Professionals with Diverse Cloud Management Skills
Creativestar clients will be able to access the blended experience of over 475 IT professionals with certifications in over 70 disciplines. We have "Cloud" implementation teams at several of our locations. Our customer service exceeds expectations, demonstrated by a 92% client satisfaction rate.
Our US-based technology professionals guide IT leadership to optimize costs for hosted cloud computing services by bringing visibility to technology consumption and spending. Creativestar's Cloud Hosting maximize valuable IT resources as we manage day-to-day IT infrastructure administration tasks.
We believe we provide better cloud hosting as we take extra care in designing your hosting environment and then managing it with Creativestar's toolsets and a team of IT professionals. Give us a try.
Cloud Hosting Consulting and Migration Planning
Creativestar's IT support goes above and beyond the expectations of our clients. We specialize in evolving businesses through the adoption of new technologies, and progressive processes. Leverage our expert IT client advisory team to let us map out a cloud migration strategy. One of our seasoned client advisers will be dedicated to your organization from initial analysis through onboarding, migration, and ongoing support including, monthly business reviews.
Our Offers
Creativestar Managed Cloud Hosting Includes:
IT Security Monthly Reports

24×7 Phone Support

Dedicated Account Manager

Managed Security: Intrusion Detection 24×7

Hosting available in up to Tier 4 facilities with N+1 infrastructure

Virtualization and optimized storage

Unified data storage architecture supporting multiple workloads

Scalable so that cloud hosting capacity may be increased or decreased quickly

Managed load balancing for data storage

Various firewall options available, VLANS, 128-bit and 256-bit encryption algorithms maintain data security

SSL and token-based credentials for remote access and end-user authentication

Virtual storage tiering automates data movement based on application affinity and workload

Use of leading-edge advanced software server and networking administration tools

Network bandwidth can be designed to accommodate peak traffic periods

Availability to connect to multiple Internet providers in the same facility

Embedded data security protects data assets through role-based administration, encryption, spam and anti-virus filters

System updates and patches

Administration by Creativestar expert System Administrators

Up to 64 GB per virtual machine

Proactive security scans monitoring for database, operating system, SNMP, and hardware issues

24×7 facility-based security access, alarms, and video surveillance systems

24×7 monitoring and management services

24×7 phone, email and trouble ticket support is available

Monthly reporting and documentation on Key Performance Indicators (KPI's)

Compliance with SSAE, SOC2, HIPAA, PCI
The benefits of using Creativestar Cloud Hosting:
Industry leading Service Level Agreements (SLA's) for cloud hosting/computing and data storage

Optimize your Azure investment while freeing your staff

Architected to meet your specific computing needs

Identify the best Azure configurations with our experts

Monitored and Managed 24×7 by our team of IT professionals

Move between platforms and change configurations with minimal disruptions using Microsoft best practices

Gain agility to change any key performance parameter

Get assurance you are meeting your compliance and security requirements

Uptime guarantees of up to 99.99%Competitive pricing based on usage parameters that the client can set and change

Infrastructure as a Service (IaaS): no capital investment required

Cloud Hosting – Software as a Service (SaaS): All popular operating systems and leading Microsoft Applications supported, including Office 365

Predictable monthly billing for cloud hosting and data storage

Optimized Storage Area Network (SAN) configuration to save you data storage costs

Advanced trouble ticketing system for any cloud-hosted platform

Mobile applications, corporate sites, rich media sites and test and development sites supported

Microsoft Servers, Linux Servers, VMware environments, Hyper-V supported

MS Exchange, MS SharePoint, Esri Geospatial Applications, Cisco VoIP, Enterprise solutions (i.e. PeopleSoft, Oracle, Citrix, Siebel, Hyperion) supported

Application setup and migration for; Qualiac, Great Plains, SAP, Voyager and more…

Access to databases on a pay-per-use basis
Cloud Hosting Services
A new level of agile, secure, cost-effective cloud hosting